A wallet is necessary for a crypto-currency user to hold his crypto-currencies like Ethereum, bitcoin, etc in a safe and secure manner. In our previous articles, we have discussed Bitcoin (most popular cryptocurrency) and also about how to buy Ethereum in India. You may read our previous articles on:
In this article, we are going to discuss about the basics of Ethereum and some popular Ethererum wallets. Ethereum wallets are nothing but wallets used for the purpose of storing and accessing (sending and receiving) Ethereum.
Ethereum is a free and open-source virtual or digital currency as bitcoin. It depends on the strategy of block chain with a functionality of scripting. It offers a virtual machine known as EVM for running scripts, where EVM is Ethereum Virtual Machine.
Ethereum facilitates the transfer of 'ether', which is a value token needed for the compensation of network nodes involved in the process carried out in EVM. Here the network spam is avoided by the use of a mechanism called 'Gas', which is a transaction pricing mechanism.
Best Ethereum (ETH) Wallets
Trezor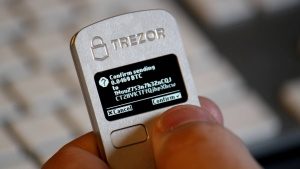 Trezor is the most popular hardware wallet that supports Bitcoin, LiteCoin, Dashcoin, and many other coins along with ETH. The Trezor device can be used for managing password, also supports two-factor authentication, and can also be used to sign documents as proof of ownership. Alternative to Trezor you can use Ledger Nano S. It is another popular hardware wallet.
CoinBase: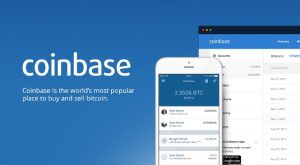 Founded in 2012, Coinbase is a crypto currency wallet and platform where merchants and users can transact with crypto currencies like Bitcoin, Litecoin and Ethereum. Coinbase is my first choice because of its availability through web and app version. It is very secure and also provides 2 -factor authentication to its clients.
Another most useful feature of Coinbase is that user can not only store coin but also have option to buy with their added payment option such as bank transfer.
MIST:
MIST is a default ethereum wallet which is invented and supported by the Ethereum Foundation. It communicates with decent contracts and facilitates ETH storage.
Faster ETH exchanges or transfers are facilitated by the integration of MIST with ShapeShift. Certain coding skills are essential for accessing MIST. Currently it is indulged in beta testing so that it is not working as a full-fledged application. An option available in Mist called 'Use the test network' helps in testing process.
Installation of MIST:
It can be installed or downloaded by the process of block chain syncing in the HDD. This process usually takes some time for the completion of installation.
The users need to select a directory from @tgerring and also the network node's directory called 'data-dir' in order to locate the application which is being installed.
Configuration folders associated with MIST:
%APPDATA%Mist for Windows systems
~/.config/Mist for Linux systems
~/Library/Application Support/Mist for MACOS systems
Ethereum transactions in MIST:
Ether can be sent via MIST by performing the following steps:
Click the send button available in MIST
Enter the receiving person's address
Select the ether amount which needs to be sent.
Drawback of MIST:
A confusing interface is the major disadvantage of MIST since the new users are getting confused while accessing it.
MyEtherWallet
Myetherwallet permits the users to send assets and simultaneously receive them with the help of an Ethereum address.
It is designed on the basis of JavaScript, where the data is being retrieved on the client side. It supports the tokens of ETH, DGD or DigixDAO, and DAO. Offline transactions are also possible with this type of wallets since the generation of data is done in the browser and not on the server.
Reason for choosing MyEtherWallet:
The users normally go for this type of wallet, when they don't want the downloading of software in their systems.
Atomic Wallet (Sponsored)
If you're looking for a handy and secure way to store Ethereum, Atomic Wallet is the perfect option. This wallet offers a lot of useful features, such as support of more than 300 coins and tokens, built-in exchange and Buy crypto options, Atomic Swaps and much more. At the moment you can enjoy Atomic Wallet on Windows, MacOS and Linux, and mobile apps for Android and IOS will be released in November.
In addition, Atomic Wallet has a strong growing community, while the project team constantly improves the wallet and adds new features through weekly updates.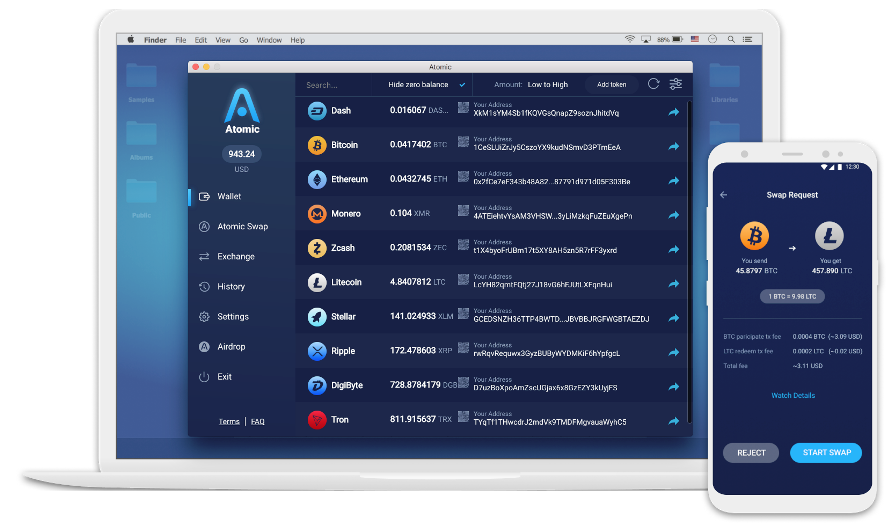 Check the list of the most important Atomic Wallet features:
Private keys are stored on user's device and generated from mnemonic.

Built-in Buy Crypto with credit card option, provided by Simplex

Weekly updates with new coins, tokens and useful features

Atomic Swaps option for exchange with low fees

Custom token feature — you can manually add any ERC20 token in seconds

Instant exchange via Changelly and Shapeshift

Instant 24/7-live support
Exodus (Desktop Wallet)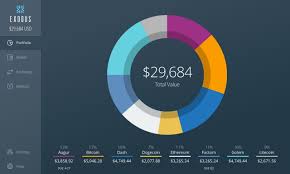 Exodus is a multi-cryptocurrency desktop wallet, and also have ShapeShift built in for exchanging cryptocurrencies within the wallet. However, user should be connected to the internet while using Exodus. It has beautiful design and attractive interface including a pie chart that will show entire portfolio of coins when you open the Exodus wallet. Exodus supports a list of coins  including Bitcoin, Ethereum, Litecoin, Dash, etc.) It is available for Windows, Mac, and Linux OS.
EthereumWallet:
Ethereumwallet is similar to MyEtherWallet and is introduced by kryptokit belonging to Canada. It is also designed on the basis of JavaScript and the data is being collected at the client side. Here an ethereum address is created to support ethereum transactions.
The site was once famous but now is under developmet (beta testing). But the functionality of the wallet remains unaffected though it is in the developmental phase
Jaxx:
Jaxx is the most convenient and user-friendly wallet that handles multi-currencies like ethereum, bitcoin, etc. Initially this wallet supported only bitcoin but is now extended to ethereum too. It also supports tokens such as Dash and DAO.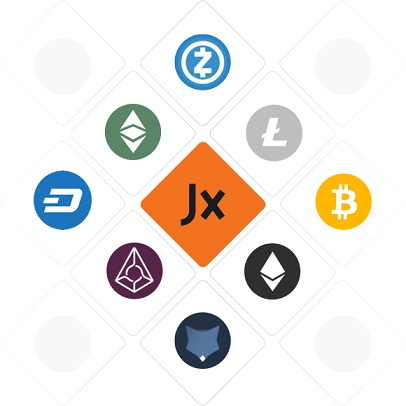 Unique Features of Jaxx:
Link option: The current user's account can be connected to a variety of devices like IOS and Android. The extension is also facilitated for Firefox and Chrome.
Jaxx too provides support for decent contracts and holds hierarchical deterministic (HD) addresses
GETH:
Geth is an oldest type of wallet that supports the creation of ethereum contracts and also facilitates ethereum transactions. It is made available for OS X, Linux and Windows users
ETHADDRESS:
ETHADDRESS ethereum wallet is designed on the basis of JavaScript, which facilitates data generation at the client side. It looks like a paper wallet that supports other types of wallets such as collective wallets and brain wallets.
Metamask:

MestaMask is a browser access the Ethereum network. MetaMask is more than just an Desktop Ether wallet, and it enables users to store and send Ethereum, and also allows to access decentralized ETH apps. You can install it as a Chrome Browser Extension!
Thanks for Reading!!! Hope you enjoyed this article on best ethereum wallets. If you have any suggestion please drop us a message in the comment section below.