What one understands about Bitcoin is that it is a cryptocurrency and world's first digital system through which transaction takes place. This was one of the first and decentralized networks that came into existence in the year 2009. In this system, there is a direct link between the giver and the receiver. There lays no intermediate to hold onto the transaction or create any problems. Therefore the transaction simple and easy. Over the years people have trusted this network and so therefore now there are huge groups of a businessman, big to small companies use Bitcoin as the source of payment.
Koinex
Koinex is India's first and best crypto assets exchange supporting multiple tokens on a single platform. Like an advanced exchange it offers open order book, peer-ta o-peer model, it is the popular and secure platform for the crypto assets in India.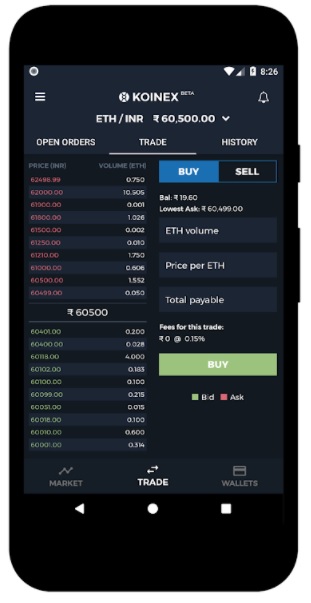 Koinex is designed for cutting-edge technology and provide a secure environment to its users. Currently available around 20 crypto assets including Bitcoin (BTC), Ethereum (ETH), Ripple (XRP), and Bitcoin Cash (BCH).
Zebpay:
This is the most popular app for buying Bitcoin. It is believed to be the fastest and the easiest way to buy or sell bitcoin. This app believes in the security of people so, therefore, is necessary then they may not allow the customers to deposit or to withdraw any bitcoin. This will be applicable in global exchange for a very short span of time. These are done to avoid technical problems and as the problem gets over they allow in a normal transaction. This process is called suspended buy/sell operation by Zebpay.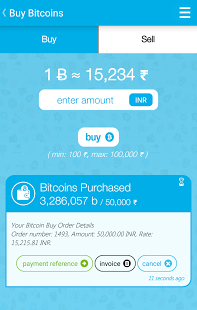 Benefits of using Zebpay:
Easy top-up service. Just like an individual top up their prepaid connection. Similarly, Zebpay allows the customer to recharge for themselves and their close ones.
Zebpay gives their customers flat 10% discount vouchers. This is something all female users using Zebpay would love indeed. The discounts are particularly on shopping sites, food sites etc.
As we have mentioned above this is a most popular app because it is the fastest and the easiest means of transaction. This is one of the best and high rated apps among the rest.
This app gives us something that we all look for i.e. Security. It is proved to be 100% secure.
Zebpay Coupon/Referral for free bitcoins (Rs 100): REF73011860
Use the code REF73011860  while Sign up on Zebpay App or In the Options–>Free bitcoins–> Promo code, in the app.
Unocoin:
This is another popular app for buying Bitcoin. It helps their customers to buy, store, sell and also to accept bitcoin in one platform. This app believes in keeping personal information of their customers while opening an account. They not only collect information but also secure them from technical risk. They made their aims to reach the top global field and make the most of it. They want to be a part of Indian as well as the Global economy. It is available in both app and website version.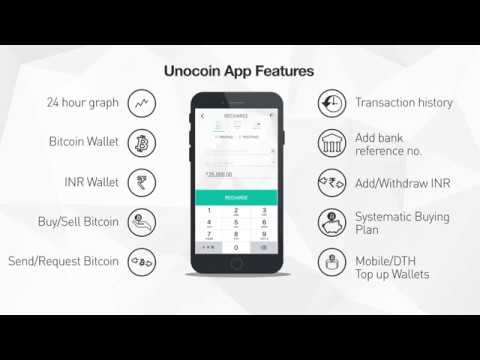 How to get started:
Registration: The customers must register themselves with valid email id, phone number, and personal details.
Verification: Once the customer gets registered he must go on the next stage to verify his/her given details.
Verified: After the account gets verified by the app the customers are allowed to buy or sell Bitcoin. If any customer wish then he/she can add bank details with the newly created profile and join the both
Wallet: Once the customers are verified they get a wallet address. These addresses always differ from person to person.
Transaction: The moment one gets their wallet address they can start their transaction process.
Wazirx
WazirX is a newly launched cryptocurrency exchange to easily and securely Trade digital assets like Bitcoin, Ethereum, Ripple etc in India.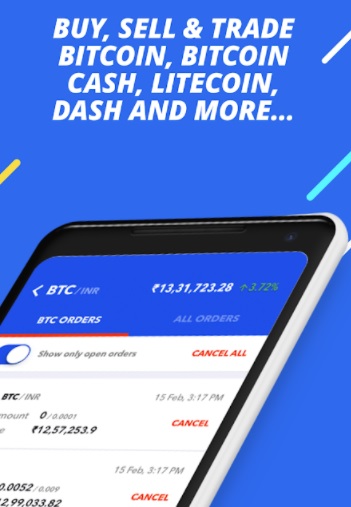 It offers a simple and powerful interface with real-time open order books, trade history, deposit & withdrawals and charting so you can trade in some of the world's best digital assets. Visit WazirX website
Conclusion:
In past few months it has been noticed that this three app in Bitcoin trading path-Zebpay, Unocoin and Coinsecure have greatly flourished itself. Records say customers within the age of 18 to 40 have experimented a lot with this app. Unexpectedly Zebpay has become the most famous and frequently used app. It has more than two lakh user.